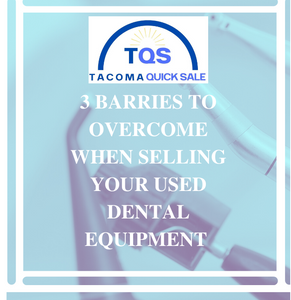 3 barriers to overcome when selling your used dental equipment
   Whether you recently transitioned to a new office with extra equipment, or your office accumulated it over the years, stagnant equipment is a problem offices commonly face. Let's face it, most practices do not know that there is a market for their used dental equipment, (yes, even those on their last leg)- so, they end up storing or worse, tossing them. From the clients, and practices we interact with, it's safe to conclude that a large percentage have limited to no resources when it involves re-locating their used, old, or unwanted dental equipment. And even when they do find a resource (Selling on a secondary market), it feels like peddling both their time and energy- A second job. It just doesn't fit the suit. There are time consuming factors;
1. Price point- (Ex: What do you ask for a 10 year old Biolase laser?) Turning into an equipment salesmen overnight, has difficult questions involved. Number 1 being, "What do I ask for my used dental equipment"? You may know the retail cost a few years ago, but the used market constantly changes. Without pricing it accordingly, chances of finding a prospective buyer, diminishes. Trying to appraise your own equipment overnight, is an extra task, difficult to complete without correct knowledge on the dental equipment market.
2. Shipping- Once you acquire a potential buyer, there are still shipping configurations. In most cases you will deal with out of state buyers, if you do not want to limit your audience. With shipping there comes the risk of damage in transport, and similar liabilities involved with transporting your items. Figuring out the correct shipping service based on your items, can be tricky as well. – If your item weighs over 100 pounds, freight cost, may be a deal breaker for your buyer. It's extremely beneficial to know what you're doing when it involves shipping.
3. Sourcing customers- Housing the equipment and waiting until the right buyer contacts you, can turn into an extremely timely event. You may also have trouble finding right buyers to purchase your used dental equipment, since generally they may prefer to purchase from an authorized dealer; Dealing with a prospective buyer, will involve back and forth communication. Pinpointing the perfect buyer for your old equipment, may feel like finding a needle in a haystack. Once the sale is complete, you're still not free and clear. There's an accountability aspect involved. Crossing your fingers almost, in case one of your buyers returns with any complaint, or issue about their purchase. This is when the full-time job part, comes in.



The process starts with contacting the desired company by phone, or form- Once they receive your inquiry, typically they will follow with a quote offer based on the supply or demand of your items. Depending on the situation, they may schedule to meet on site or arrange shipping for your items to one of their warehouses. Payment is typically completed after they receive your equipment (Dependent on each company). This process keeps a flowing system for both parties, with minimal liability and frustration. No matter which company you decide to work with, asking the right questions can avoid complications- being clear on their policies related to payment, shipping, and handling, will further ease the sale of your used dental equipment. Accurately describing what you are seeking to sell, allows for a company to provide the best transparent quote for your items. Examples of questions worth asking each company include; When do I receive payment? Do you cover shipping? Can they produce quotes on site, for overwhelming amounts of equipment? Gaining further clarity is key to creating confidence in your decision and ultimately a seamless transaction.
Looking to sell your used dental equipment? Trade it in for cash. Start a quick and no obligation quote here: 
https://tacomaquicksale.com/pages/used-dental-equipment
or reach a live purchasing manager at (253) 248-3974  for all questions! 
Author bio: Ayat Huseen assists practices and dental professionals with attaining the most return on assets, while reclaiming their space. As a purchasing manager, she appraises, consults, and purchases excess or unwanted dental equipment globally. She assists practices by appraising, producing quotes and leading them through the entire sale of their secondary idle equipment. Tasks also include producing quotes, arranging payment and shipping, across the U.S. and Canada. TacomaQuickSale.com is a service for selling used dental equipment in the U.S. & Canada.  
https://tacomaquicksale.com/
---