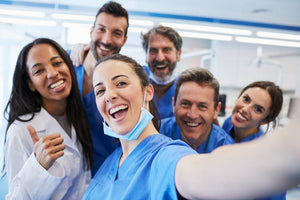 4 ways to ensure your team feels appreciated; In honor of dental assistants week!
   With all the crazy days that play out in most dental offices across the world, we can only imagine how hard it may be to stop and appreciate every role that plays in keeping an office running smoothly. We would like to acknowledge that the majority of dentist's take the effort to show their appreciation for deserving staff (dental assistants, etc..) but there are still a few issues within the industry, that points to management feeling overworked, with little pay, no incentives, and zero encouragement. In honor of dentists', and dental assistants' week we share 4 ways to give back to your team members, to ensure that they feel appreciated. We believe that the key to a successful practice, is a team in harmony and sync. As humans first most, we operate at our best capacity when we feel seen and heard. Here are some simple acknowledgements you can apply to ensure you lead a happy TEAM:
Speak as an equal to your fellow team and management. Refrain from taking frustrations out on members. You can do this by addressing issues respectfully, and without belittlement. Always leave personal issues aside!
Check on the mental health of your team members. We know you may feel overwhelmed, but chances are staff may feel the same. Although we know you love your career, there are days where balancing every thing seems impossible. Are they " biting off more than they can chew"? Ensure your team, they can "mentally" step back if needed (within boundaries). Creating a genuine safe space for team members, will re-assure them that they are not under appreciated. Encouraging them with words of gratitude can ease administrative burden. Being kind is the only way!
Team weekly meetings. Discuss goals, production, and future rewards. Include your team in on the journey. Offer incentives to staff. Reward key players. Make it fun! It doesn't have to be costly. Offer a space for them to really feel apart of the journey. Team performance enhances when there is reward!
Hard work pays off! Offer incentives to staff. No one enjoys working at their maximum for little reward, and that's the truth! Offer incentives to staff to keep the work place fresh, fun, and exciting! It's a fact that when people feel excited about their job, they perform better to! It's a win – win. Ideas can include; gift cards, dinner outings, lunch on the house, etc.. Create a reward system for when target goals are met. Show staff you still appreciate them with small tokens, even during rough months.
 Using ideas like the ones we shared, will help to keep a balanced team around for a long time! When you treat your members as a TEAM rather than "Staff", the chances of running a successful dentistry only increases! Remember, as common sense as it is, there is no I, in TEAM.
Are you a dental assistant, office manager, or hygienists, who feels appreciated by the practice you work for? Share some ideas or incentives applied by your leaders in the comments below! 
---