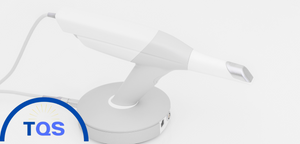 Benefits of intra oral scanning – Highlighted reasons why you may want to finalize the transition.
Immediate impression results- Traditional impressions are not only messy but time consuming. With an intra oral scanner, results for patients are immediate. A dental professional will be able to assess the impression, following the scan, vs. mailing the impression and waiting for results. If an area was missed or overlooked, solutions are as simple as rescanning the portion.
Low maintenance- Cleaning and maintaining an intra oral camera requires less effort then disinfecting impression trays. This creates a smooth transition after a patient leaves an operatory.
Accuracy- Intra oral scanning captures accurate shades and form. This allows for better patient prognosis and an accurate treatment plan.
Quicker treatment acceptance- Finalizing a treatment plan with a patient should be the end goal for a practice. The quicker an effective treatment plan is presented to a patient, the higher chance that they are able to move forward with accepting it. The accuracy and speed that most intra oral scanners offer, allows for an increase in treatment acceptance.
Little to no waste- Intra oral scanning involves less material cost and waste overall. No disposing or storing of impression material, will maintain a clutter free process and practice.
Intra oral scanners are revolutionizing the process of obtaining impressions. They eliminate the middle man by bringing forth quicker results without the mess. Although most intra oral cameras are useful, we have included the top brands favored by clients. Assessing the capabilities and how they will fit in your practice is important when deciding on which brand to invest in.
Top rated scanners according to clients:
Trios 3  - Best for restorative scanning.
Itero- Best accuracy for ortho related scanning.
Medit – Cost effective and great for simple restorative work. No yearly fees.
Updated your scanner, and have an old / used one collecting dust? We buy  old or used dental scanners and equipment!

Sell your dental equipment and trade It in for cash! Start a quick and no obligation quote here: 
https://tacomaquicksale.com/pages/used-dental-equipment
or reach a live purchasing manager at (253) 248-3974  for all questions! 
Author bio: Ayat Huseen assists practices and dental professionals with attaining the most return on assets, while reclaiming their space. As a purchasing manager, she appraises, consults, and purchases excess or unwanted dental equipment globally. She assists practices by appraising, producing quotes and leading them through the entire sale of their secondary idle equipment. Tasks also include producing quotes, arranging payment and shipping, across the U.S. and Canada. TacomaQuickSale.com is a service for selling used dental equipment in the U.S. & Canada.  
https://tacomaquicksale.com/
---