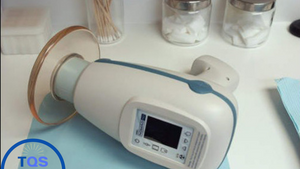 Handheld X-ray VS. Conventional & The top brands on the market according to peers.
   Since their introduction to the dental equipment market, Portable X-rays, have made their way into thousands of dental practices across the nation. Chosen for their highly portable and accessible features, they are either praised or criticized among the dental community. Although the portable X-ray market is worth about 5.41 billion, there are plenty of practices who have yet to introduce this technology to their operatories, either out of hesitancy or lack of knowledge. For those outweighing which decision to act on, we listed a few practical advantages and disadvantages that are intended to provide basic guidance to consider.
Advantages-
   Less set up – Because handheld X-rays typically require no electrical work, installation, or space, they end up saving a practice both set up time and funds. Their mobility allows them to be utilized freely from operatory to operatory. This allows for a practice to cut down on or inhibit the need to install a wall mounted X-ray in every single patient room. A practice has the ability to use one handheld system for multiple operatories. Many users consider this capability and freedom as a major "selling point".
   Patient comfort – Treatment coordinating, and fulfillment is the ideal goal for a dental practice. To achieve this, it is vital to create a comfortable environment that builds patient ease and confidence. Equipment plays a huge role in that desired scenario. Portable X-rays may create a pleasant experience for patients who prefer to have a personnel in the room during an X-ray, due to fears, uncertainty, difficulty with X-rays, or higher gag reflex.
   Cost efficient- In comparison to wall mounted X-rays, Portable units win in regards to retail price. This allows practices, the flexibility, to add multiple units in their operatories without the costly setup that a conventional unit usually demands. Portable units (depending on the model, and brand), begin at $4,000 with an upward cost of $15,000. Compare that next to conventional setups that can reach up to $90,000 or more per setup.
   Quicker Speed- This ability increases patient treatment, and satisfaction. Portable units typically perform quickly with better control, limiting the need to take and retake X-rays. Because, a portable unit can be utilized quicker than a conventional X-ray, patient movement is less of an issue during procedure. Speed also contributes to a faster diagnosis, since they can take less than 20 minutes to transmit information. In return, this feature, speeds up patient coordination time and treatment.
Possible disadvantages to further research:
Patient concerns over radiation.
Repetitive use, and bulky design from some brands may cause discomfort.
Achieving a certain angle can be tricky at times, especially for Endo related procedures.
Changing the battery pack, or purchasing a new one can add additional costs.
Concerns over uncontrolled possible radiation for operator.
Brands & different styles to consider:
Cocoon style mobile X-ray – According to some makers of this style, a cocoon design enhances safety for those worried about exposure to radiation, since its shape allows for better controlled application, and less "leak" to un protected areas. Brand suggestion: MaxRay by Avtec dental.
Lighter weight design- If an operator is more susceptible to joint damage, such as carpel tunnel, and prefers stable conditioning, a lighter design is important to consider. Brand suggestion: VATECH EZRAY AIR.
High quality imaging- Although plenty of portable dental X-ray units produce crisp and quality images, there are a few brands that exceed in this specification. Brand suggestion: Kavo Nomad pro 2.
   Conclusion: It is important to compare what will hold more weight in your practice before making the switch. Whether you introduce 1 or more mobile X-rays in a practice, having an idea about what you prioritize, will help guide you to a better decision!
---