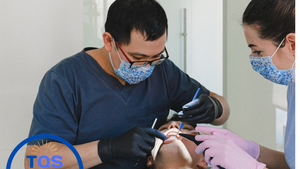 How to reduce your dental practice's carbon footprint
Let's face it, a dental practice is a business like any other. It has clients who travel to and from the practice, energy is being consumed, it has waste products, and it must procure products and services on a regular basis. In a world where an increasing number of people are very conscious about the carbon impact of the businesses they support, it is certainly in the best interest of every dental practice to consider going green.
Below are a few ways in which your dental practice can help support the green revolution:
Implement a sterilization program that is less harmful to the environment
sterilize can not only harm the environment, they might also be detrimental to your patients' health. Implementing a green sterilization program is significantly safer than these older methods because it uses steam sterilization and non-poisonous ways of infection control.
Apart from that, using single-sterilization items, disposable bibs for your patients, and single-use wraps significantly increase the waste produced by your practice. Rather start using patient bibs made from washable cloth, reusable pouches, and re-usable wraps.
To make recycling easier, also separate your waste products into cloth, paper, Chemicals that have traditionally been used by dental practices to help prevent infection and to and plastic.
Start using cotton towels
Another positive step toward a more eco-conscious practice is to replace disposable paper towels with reusable cotton ones. Many dental offices around the US are already using cloth pouches and sterilization wraps. Note: Despite the numerous benefits of using cloth products in a dental practice, they should never be used twice without being properly washed to prevent spreading microbes.
Go digital and save paper
Upgrading your dental office to digital can virtually completely remove the need for paper products. And dental offices that are already digital can now move to the cloud. Having cloud-based dental practice management software will make it easy to communicate with your patients and staff members from wherever you are.
With a cloud-based system, it's also a breeze to look up and create patient charts and send reminders about appointments and payments directly to patients' smartphones. Research conducted by Microsoft showed that you can reduce your carbon footprint by as much as 90 percent by using cloud computing.
A paperless dental office will also make it easy for your patients to fill out forms online. Plus, your office will be able to start using electronic billing - and you can start using digital x-rays that don't expose your staff and patients to high levels of radiation.
Conserve more energy and water
You can start by installing energy-efficient skylights and windows. These will reduce cooling and heating costs by allowing more natural light to enter the building. Also, make a point of saving energy by switching off equipment and lights when they are not in use. Use LED or fluorescent light bulbs instead of the older incandescent bulbs. And save electricity by installing occupancy sensors for electrical lights.
Another great tip is to replace all single-use batteries with rechargeable ones. Having to replace single-use batteries all the time is a hazard to everyone involved because, among other things, they contain mercury.
It's also a good idea to have one or more reminder signs in your dental practice to remind staff members and patients to turn off the tap while they are brushing their teeth.
Implement a program to control, reduce, reuse, and recycle
Start by no longer using disposable plates and cups in your office kitchen and replacing them with the old-fashioned washable versions. The next step is to start buying bio-degradable cleaning materials. You might also consider recycling plastic and paper separately from the rest of your waste products. And last but not least, often sharpen your instruments - and when the time comes to replace them, investigate possible recycling options.
Feel free to contact us if you plan on selling dental equipment or need an appraisal. We will be more than happy to assist you with our fast and efficient service. Visit us here  for a speedy quote or call us directly to reach a live acquisition specialist at 253.248.3974
Sources
https://www.todaysrdh.com/green-dentistry-how-to-lower-your-practices-environmental-footprint/
https://www.dental-tribune.com/news/a-guide-to-eco-friendly-dentistry/
https://www.dentalentrepreneur.com/lower-carbon-footprint-6-tips-greener-dental-office/
https://rodericksdental.co.uk/environmental-impact-dentistry/
---