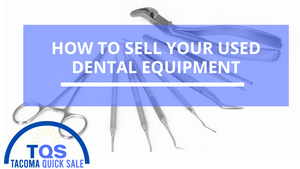 How to sell used dental equipment
Your dental equipment can be traded, sold, and utilized to reap more funds for your practice- But how do you ensure that you will be able to sell used dental equipment and achieve the best outcome from your efforts. See our top highlighted tips how to successfully sell your dental equipment. 
1. Be willing to present the item or items at their best. You wouldn't expect to take a picture of your dental practice at it's worse, if you were selling it. For the same reason taking professional and clean images of your items, will help a potential buyer feel comfortable purchasing your unit. If you are selling to a third party, ask if they are able to schedule a team member out to your office. 
2. Be willing to ship. Reaching buyers worldwide opens opportunities that may be harder to reach locally. 
3. Be willing to disclose history and any technician notes.
4. Items like sensors, and others, may need software, or calibration files.
5. Bring transparency into each sale. Whether or not the item/s you are selling operate, be transparent about the condition. If you do not know, or you are unsure, disclose this information.
6. Verify the buyer before each sale.
Have old equipment you would like to sell? Don't store it, sell it. Use our get a quote form here, or give us a call at 253.248.3974
---