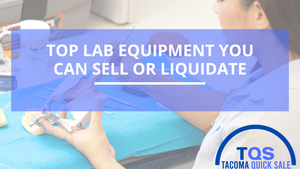 4 top Lab equipment types you can sell or liquidate
Lab equipment you can sell or liquidate
Whether you are retiring from a lab or dental business, or simply need to unload extra lab equipment, we created a short guide for examples of the top 4 types of lab equipment that are the most sellable.
Dental articulators
Hanau
Stratos
Denar
Sam
Panadent
Whip mix
Kavo
Artex
Ivoclar vivadent
Porcelain ovens / furnaces
Ivoclar
Zirconia
NEY
Whip mix
JELRUS
Scanners
Straumann Dental wings
Itero
Sirona inEOS
Shining 3D
Lab motors
Conclusion
We receive daily inquiries about whether we purchase lab equipment along with dental. Not only do we serve the dental and medical community, but lab equipment is also one of our specialties Listed are among the most popular top brands we buy or that you can sell. If you do not see your item or brand, do not hesitate to reach out. We still consider dental and lab items not on this list. Start by reaching out to sell them here!
---