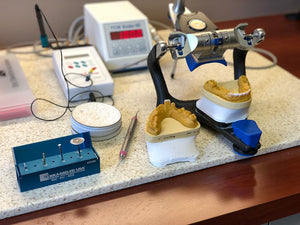 5 reasons why you should buy used over new dental equipment
We've compiled 5 important reasons you may not have given thought to, but should consider before purchasing brand new dental equipment over used:
1. Save up to 60% off retail cost by cutting out the middle man. When you buy new, you will have to account for the extra fees associated with company overhead. By eradicating those hidden fees, and buying secondary dental equipment, you can save between 40-60% off retail. 
2. Your initial investment stays the same or depreciates very little; Purchasing new equipment, is similar to purchasing a brand new car. The overhead is drastically different than the actual value. Once you drive it off the lot, it will depreciate. To ensure that your initial investment stays steady for the first 2 years, buying used is the way to go! 
3. You may change your mind; Whether its the desire to introduce crown milling in your practice, or dental sleep technologies, you should not purchase new if you're just testing the waters. When you purchase used equipment, you will at least be able to list it back on the secondary market and fetch close to what you purchased it for initially. However, if you purchase new, you risk losing half of your investment. Often times, you can purchase second hand equipment that is almost as good as new, without the overhead.
4. Best of both worlds! Many authorized second hand dealers and sellers offer an extended warranty, or money back guarantee on equipment in stock. Allowing you to minimize both your cost, and risk.
5. Positively impact the environment. When you purchase second hand, you are not only saving on your initial cost but you are helping lessen the environmental impact on our planet. By supporting the second hand dental equipment industry, you use what is already there, and decrease the demand on equipment manufacturing. You will also help keep used equipment out of the landfill. Some dealers may even offer a program where you can trade in your old equipment for a credit or discount. Making it a double win-win environmentally!
Looking to sell your used dental equipment? Trade it in for cash. Start a quick and no obligation quote here: 
https://tacomaquicksale.com/pages/used-dental-equipment
or reach a live purchasing manager at (253) 248-3974  for all questions! 
Author bio: Ayat Huseen assists practices and dental professionals with attaining the most return on assets, while reclaiming their space. As a purchasing manager, she appraises, consults, and purchases excess or unwanted dental equipment globally. She assists practices by appraising, producing quotes and leading them through the entire sale of their secondary idle equipment. Tasks also include producing quotes, arranging payment and shipping, across the U.S. and Canada. TacomaQuickSale.com is a service for selling used dental equipment in the U.S. & Canada.  
https://tacomaquicksale.com/
---