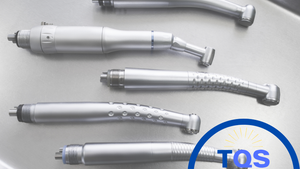 Trade Dental Equipment: Top 6 Units That Still Hold Value
A dental clinic requires a wide range of equipment and tools to perform successful procedures. However, when procuring the equipment, dentists must invest heavily in dental devices such as sterilization equipment, x-ray machines, handpieces, dental cavitrons, and laser equipment.
Despite the equipment having long-term usage, they do age or break, limiting ultimate performance in the expertise. Some will require replacing with new ones. But what should you do with the broken or old dental units? 
Reselling is an ideal option for acquiring 10-15% of your investment, depending on their condition. You can also trade-in, which in return benefits you with huge savings when purchasing a new dental unit. Read on to learn more about six dental units that are still valuable despite their condition. 
1. Non-Working Dental Cavitrons and Inserts
Dental cavitrons and inserts are used in scaling and root planing. The instruments are helpful when removing plaque stuck above and below the gum line. Additionally, they are essential tools needed for deep cleaning teeth.
If the cavitron and inserts break down, you don't have to throw them away. You can resell or trade-in with recycling companies, earning significant discounts and savings on your new equipment. Remember, the devices can be misconfigured and sold in parts.
2. Non-Working Handpieces
If your handpiece has stopped working or is not working, as usual, you should think of trading in or selling it. It is an essential tool for dentists. Broken handpieces can be repaired and resold as used items. It is also wise to consider a trade-in when finances are not enough or for discounted prices. 
If you have already acquired a new handpiece, you can resell the old or broken unit. Recycling companies and individuals buy used dental equipment, including broken handpieces, to repair and sell them at slightly lower prices than new ones.
3. Non-Working Polishers like RDH Midwest Units
When decluttering your dental clinic, you should not throw away polishers, especially the RDH Midwest Units or any other advanced model. You can find a ready market for the polishers. Besides, some companies that sell dental equipment do offer trade-in programs for broken or old dental polishers.
4. Broken Sensors
Dental x-ray machines use small imaging sensors inserted in the patient's mouth for diagnosis or assessment. If the sensors break down, you may not get the correct information to make a proper diagnosis. You will have to buy new dental sensors. 
You can trade in the broken sensors for new ones. New sensors can be pretty expensive, but you will save a lot when you trade-in with the broken ones. It is essential to note that you can also trade in old sensors for new advanced models giving more explicit radiographic images of the mouth.
5. Broken Lasers
Laser technology is a lifesaver in the dental industry. However, laser machines can break down, and considering how expensive they are, throwing them away can be a huge mistake. Many dental clinics are looking for affordable dental lasers. 
You will find people and businesses buying broken dental lasers. After purchasing, they fix the machines and sell them to dental clinics at friendly prices. 
6. Non-Working Sterilizers
Sterilizing dental instruments is essential to prevent the spread of infections in the clinic. Dental clinics must have sterilizing equipment to disinfect most of the tools used in assessing or treating patients. The machines typically use dry heat or steam to sterilize and dry the dental instruments. 
If you have a non-working sterilizer in your clinic, you can trade or sell it to be repaired and sold to new or needy dental clinics.
Final Thoughts 
You don't have to throw away used, old, or broken dental equipment. You should consider selling them. Besides, you can trade in the gear for new or refurbished dental instruments.
Whether you have non-working handpieces, broken lasers, or non-working dental carvitrons and inserts, at Tacomaquicksale LLC we will help you determine the value based on their history.  Our buying process is honest and flawless, saving you time and money. Visit us today or contact us for more information.
---