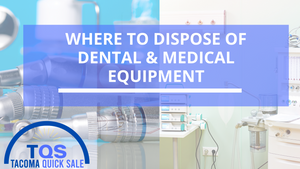 Where to donate or dispose of dental or medical Equipment
Donating your used dental or medical equipment is an excellent way to dispose of them. Before arriving at your final decision, it's vital to determine the type of organization you would like to donate the equipment to. Conduct an online search to find reputable religious or non-profit organizations that need used equipment.
You can make a significant difference by donating your used dental or medical equipment and supplies to where they are needed most. Used equipment can help offer high-quality dental services and education to underserved communities globally. 
The question for many professionals in medical settings is where can you donate or dispose of equipment? Here are different ways in which you can dispose of your used dental or medical equipment. 
Donate Them to a Qualified Scheduled 501C Organization or Charity
Consider donating your used equipment to a charity organization that can establish a fair market value for your equipment and offer a tax write-off. The best thing about donating equipment to charitable organizations is you're helping other human beings in need. Search for the right charity that will accept the used equipment and send them to those in need.
Also, determine the type of equipment the organization accepts. For instance, some foundations accept items that are functioning or can be repaired. Others pick up the dental equipment if required. Although you won't get paid for donating your used equipment, you'll get a receipt that you can use for tax deductions.
Some organizations that you can donate your pre-used dental equipment include:
Oral Health America (OHA)

Dental Lifeline Network

American Dental Partners Foundation 
When you donate your dental equipment to a charity organization, ask them for a receipt to add to your income tax returns and qualify for a tax write-off. 
List the Equipment for Free on Dental Classifieds
Another option for disposing of used equipment is listing them for free on dental classifieds such as Dental Society Classifieds or Dental Town. By listing the equipment on these sites, you are positively contributing to startup dental clinics or dentists who may not have the financial capability to purchase dental equipment for their new clinic.
Such clinics can't exist or operate without the equipment or supplies. Check their guidelines for the best results before listing your used dental equipment. 
Donate Your Pre-Used Dental Equipment to Free or Low-Cost Clinics
Depending on the condition and age of the equipment, they can be useful to low-cost clinics in your area. Before donating the dental equipment, ensure they are in good working condition. If not, ask your technician to do the necessary repairs.
Also, consider the availability of parts and how easy they are to repair, especially if they are shipped out of the country. As well, consider if they are high-tech electronic equipment that may be difficult to operate in specific clinic settings. 
Donating your used dental or medical equipment is one of the best ways to dispose of them. Instead of channeling them for recycling or landfills, you can donate them to charitable organizations or partitioners who need them. Research for reputable organizations where you can submit your dental equipment to be channeled to where they are needed most. 
Sell the Equipment and Write off a Loss
When you sell your used dental and medical equipment, you offer value to the pre-owned equipment market. In this, you're supporting the second-hand market for those who can't afford to purchase new equipment. Selling used equipment to others helps them attain equipment at a reasonable price.
Depending on the condition, you can write off the current value from the original cost. Selling the equipment is another best option for medical professionals disposing of usable dental equipment instead of sending them to the landfill.
Additionally, you can raise extra funds  that you can use to purchase other new equipment. If you're not sure if your equipment is in proper working condition, you can inquire technicians to refurbish it before reselling it to get a better deal when reselling.
Are you planning to sell or donate your pre-used dental equipment? Tacomaquicksale LLC is your ideal solution. We'll help determine your equipment's value and find a fast and seamless transaction. Contact us now for details. 
---