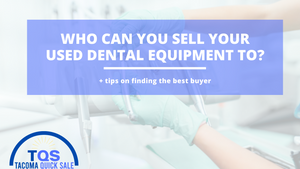 Who Can You Sell Your Used Dental Equipment To (+Tips on Finding the Best Buyer)?
Sell used dental equipment you no longer use to earn back part of your investment while relieving your storage space! Common dental equipment that will sell well include sterilizers, cavitrons, inserts, lasers, sensors, and handpieces.
Who buys dental equipment? The list is long, from dental startups, those seeking to expand, dentistry schools, and resell companies.
When you handle the sale alone, you can easily go down a rabbit hole due to the required procedures of inspections, refurbishing, pricing, marketing, deciding on a warranty, and addressing buyer concerns. Read on and we'll show you how who you can sell your used dental equipment to without a hitch.
How Can You Sell Your Dental Equipment?
The dental equipment and consumables market size is expected to hit $36.2 billion in 2026. Being a rapidly growing sector, you cannot miss finding buyers for your equipment. Here are places to find buyers for your used dental equipment and supplies:
        eBay

        Dental town magazine

        Dental garage sale group on Facebook

        Companies that resell used dental equipment
How Do You Identify the Right Buyer for Your Dental Equipment?
When your intention to sell attracts several buyers, how do you know which to sell to? You need a buyer that does right by you and pays a fair price for your equipment. Follow the tips below to find that ideal buyer:
1.      How Does the Buyer Go About the Payment?
Be vigilant to avoid getting paid less than your equipment's worth or not getting paid at all. In fact, there are red flags to help you know that you might be dealing with an unscrupulous buyer.
Be wary when a company demands that you send your equipment before they send their offer. You can avoid the dismay that comes with a low bid by doing so.
The company should also be clear about when they will pay and their terms and conditions. The latter helps you know the company's principles, e.g., whether they sometimes lower a quote after receiving your equipment.
2.      How Familiar are They With the Used Market?
Any reputable company in the used dental equipment market is conversant with the going rates of dental equipment. How do resell companies determine the worth of your used dental equipment?
The used market value determines the appraisal of used dental equipment and supplies. Most companies offer 30% to 40% of the original market value.
3.      Who is Responsible for Transportation?
It is best when the buying company is in charge of the transportation of the equipment to their facility. This saves you additional shipping costs and liability incurred in case of damages in transit. It is essential to ask the buying company if they handle transportation. The company should also have arrangements for any bulky or fragile equipment and supplies.
Why Tacoma Quick Sale is the Best Company Selling Used Dental Equipment to Sell to.
Tacoma Quick Sale pays 30% of the pre-owned used market value for dental equipment. The choice of which payment method to use between your credit card provider, PayPal, or cash is yours to make.
We complete the exchange within 24 hours for on-scene sales. The rest usually takes 5-7 business days. No, the offer you receive cannot be reduced later.
We also cover the shipping fees of all the used dental supplies and equipment purchased. Fed-ex, along with our other partners, deliver packages Nationwide at no cost to you. If you reside in Washington, we will send a pick-up team to you. 
You get a reasonable price, timely pay, and a lot of conveniences when you sell your used dental supplies and equipment with Tacoma Quick Sale.
Get a quote today
!
---