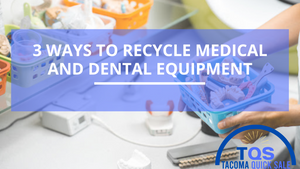 3 Ways to Recycle Medical and Dental Equipment
Medical and dental waste forms at least a quarter of the total waste of clinics and dental offices. Part of this waste comprises medical and dental equipment whose economic lifespan has lapsed and may prove difficult to dispose of properly. In this context, proper disposal of these pieces of equipment has become a pressing issue for many medical facilities, and thus, it requires urgent redress. Recycling medical and dental equipment is an important part of environmental conservation efforts in medical facilities. This, in turn, helps minimize the amount of waste in landfills. 
Below is a small guide on safely getting rid of obsolete or non-usable medical and dental equipment.
Reach Out to Recycling Experts
Some organizations can help medics and dentists in recycling their medical and dental equipment. Some organizations have elaborate programs that accept a wide range of waste equipment to avoid unnecessary disposal. Other companies may be able to assist in a medical facility or dental office "clean up". They can offer entire medical facility clean outs, deinstallation, and hauling. Medical equipment, paper waste, furniture, and more can be hauled to create space in a facility. 
You may be able to sell used medical and dental equipment to such organizations at fair market value, and they will take over the recycling process. Such transactions help you save time and avoid the hassles of disposal, thus, enabling you to focus on your practice.
Another benefit of partnering with such experts is that they offer valuable advice on the best practices for disposing and recycling medical and dental equipment. The guidance helps choose the best option for the best disposal and recycling outcomes, including preventing injuries and environmental hazards.
Donate Medical or Dental Equipment 
You might have wondered what charity or corporate social responsibility activities to take on. Well, donating equipment you no longer use is one of the best things you can do to declutter your facility. 
Some organizations, especially non-governmental institutions, accept donations of second-hand usable medical and dental equipment, supplies, and instruments to facilitate the provision of healthcare services to those in need. 
Some organizations also accept dental equipment donations. In return, they give back to those in the medical and dental community who are in dire need of financial and material support. 
Other organizations accept and match pre-used medical equipment to charitable organizations to help with distribution to those in need.
Donations do not bring in cash proceeds. However, you can use the donation acknowledgment receipts to claim a deduction on your tax returns, provided the charitable organization is eligible for tax-deductible donations.
Sell Your Equipment to a Medical Company
Another viable option to dispose of your unused equipment is to sell to a medical company that, in turn, refurbishes the equipment and uses or resells it.
This option works out well when the machines are gently used and can be re-used by the buying company, and spare parts are readily available in case some components need replacement. 
The best way to attract potential buyers is through online platforms, local shops, and medical stores. You can even set up your medical equipment shop to resell your equipment. 
You can also opt for a used equipment trade-in in exchange for medical equipment more suitable for your medical practice.
Recycle Your Medical and Dental Equipment Responsibly
The world continues to gear toward a cleaner and greener planet. The medical fraternity has a crucial role in ensuring the proper disposal and recycling of medical and dental equipment. Modern high-tech medical and dental equipment significantly contributes to the high levels of e-waste worldwide. That necessitates the formulation of new-era disposal and recycling methods for electronic equipment.
There are many disposal and recycling options available. All dental and medical practitioners must do is take the option they deem fit. 
At Tacoma Quick Sale, we help busy dental health practitioners to access secondary-market dental equipment. We are on the frontline of the sales, transportation, and assessment of used medical and dental equipment by practitioners worldwide. 
We are on a mission to help reduce medical waste pollution, enable medical professionals to maximize their assets, and offer solutions whenever necessary.
Contact us today and get a free quote to kickstart the process of disposing of your dental or medical equipment. You can also schedule an inspection and valuation session of your equipment. Lastly, you can call us for a one-on-one chat with our customer support team and get your queries answered immediately!
---