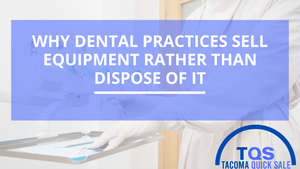 6 Reasons Why Dental Practices Sell Equipment Rather Than Dispose of It
When the time comes to grow your dental practice or close it down, you may face the decision of whether to dispose of your dental equipment or sell it. The path you take will have a direct impact on your finances. That is why most dental practices prefer to sell their equipment rather than dispose of it.
Reasons Why You Should Sell Your Dental Practice Equipment Instead of Disposing of It
Below are some reasons why you should sell your extra dental equipment rather than dispose of it.
1. Great Way to Recycle 
By selling your used dental practice equipment, you become a part of the solution for other dental practices that may not have the financial muscle to buy new equipment. You recycle the equipment while also helping out newer and smaller dental practices to grow. 
By selling the equipment, you also reduce the baggage of dental waste out there. You gain a reputation for being a responsible practice.
2. Extra Funds for Team and Practice
Second-hand dental practice equipment will fetch you a fair sum of funds when sold. Whether you are closing down your practice or expanding to a bigger facility, the money that comes from the sale of such equipment will come in handy.
If you are closing down, you get to raise extra funds to help you with your future ventures. If you are growing, those funds can help facilitate some aspects of that new practice. 
3. Extra Funds to Help Purchase New Equipment
With the sale of old equipment, all you need to do is top that amount up with to buy newer and better equipment. This is especially ideal if you are expanding your dental practice.
Selling that old equipment will lower the pressure you will have when acquiring new equipment. You will not have to raise the entire figure for a piece of new equipment as you will already have proceeds from the sale of the old equipment.
4. Renewed Space in the Office
When expanding your dental practice or when moving to a new location, it is important to create the best ambiance and effiecency for it. Your team will appreciate a comfortable and easy to navigate office. 
Your new dental practice will feel rejuvenated, and fresh. That is the kind of office that will inspire your confidence when charging and attending to your clients. An organized office will ensure a smooth operation day in and day out. 
5. Lower Maintenance Costs
Old equipment attracts a lot of maintenance fees. New equipment, on the other hand, will have minimal maintenance costs. By selling the old equipment, you raise funds to keep the new equipment running smoothly for the longest time possible. You will also eliminate the need for a full-time dental equipment repairs specialist since the new equipment will not need this for quite a while.
6. Tax Write-off
A dental business has a variety of assets, including equipment, supplies, real estate, and goodwill, and each asset is subject to its own accounting and tax regulations. This also depends on how your practice is set up - whether it is a C corporation, S corporation, regular partnership, or a sole proprietorship.
However, if you keep proper records of your equipment, you can attract great tax write-offs when you sell that equipment. By talking to a CPA or an attorney, you can get advice on maximizing this when selling your old equipment.
Conclusion
So, why do dental practices sell equipment rather than dispose of them? I believe you now have the answers from this article. Don't dispose of your dental practice equipment. Instead, sell them!
---